There is nothing quite as sublime as sinking into a deep bath and the transformative power of hot water and steam restore tired muscles and renew a weary mind. The act of bathing has different forms and purposes and is undoubtedly one of life's simplest, yet greatest pleasures. In cultures round the world, baths are taken not just to cleanse oneself, but also as a form of relaxation, social gathering and at times, part of a religious experience.
– Moroccan Hammam –

Hammam has been introduced to moroccans since their childhood, for some it became a ritual to go to it every week, mostly weekends.
The architecture of the Hammam is caracterised with its use of grand arches, intricate carvings, marble fittings and a labyrinth of rooms and exits to allow bathers to freely move around and in and out of the building.

At the entrance there is 2 main doors, one for men and another for women,then you find the changing rooms composed of sitting areas , lockers and a place where you can rent or buy hammam's utencils, like mats, black soap, kess, pots where you can fill in your water,etc…


Then you can actually get into the hammam, composed of 3 huge rooms, the further you go into them the hotter it gets. These rooms have really high curved ceilings, to keep the water coming from the hot steam to drop in vertically, tiled with traditional moroccan tiles all the way up with small windows at the top letting light in. In each one of them there is sinks where you can fill your pots. The floor are heated and there is a layer of salt between the floor slab and the fire heating part ,which distirbute the heat evenly and keeps the rooms hot.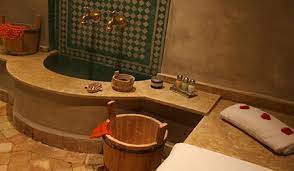 Hammam is a place for purification and relaxation , but also a place where people meet and talk about everything and nothing , it's like a therapy session.
People mostly stay there for a min of 2h, chatting, deep cleaning, getting rid of their dry skin, putting on a lot of mask and relaxing in the very hot rooms.
This is how the traditional ones are, but now there is a lot of modern versions of Moroccan hammams, where you can rent have your own room, get a massage , a facial and a lot more. There is even a hairdresser where you can get your hair done once finished showering , they also serve you different beverages, from Moroccan tea to fruit juices. Of course these are a lot more expensive, but still each version has it's beauty.
Also, most moroccan households have a private hammam nowadays, composed of a small to medium warm steam room with a concrete and tiled bench.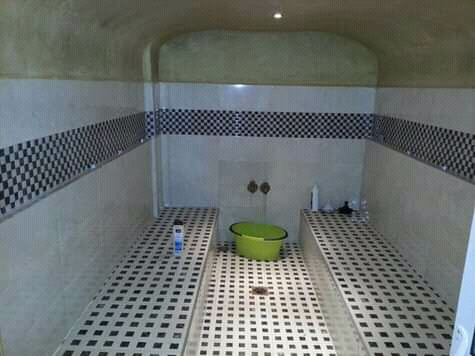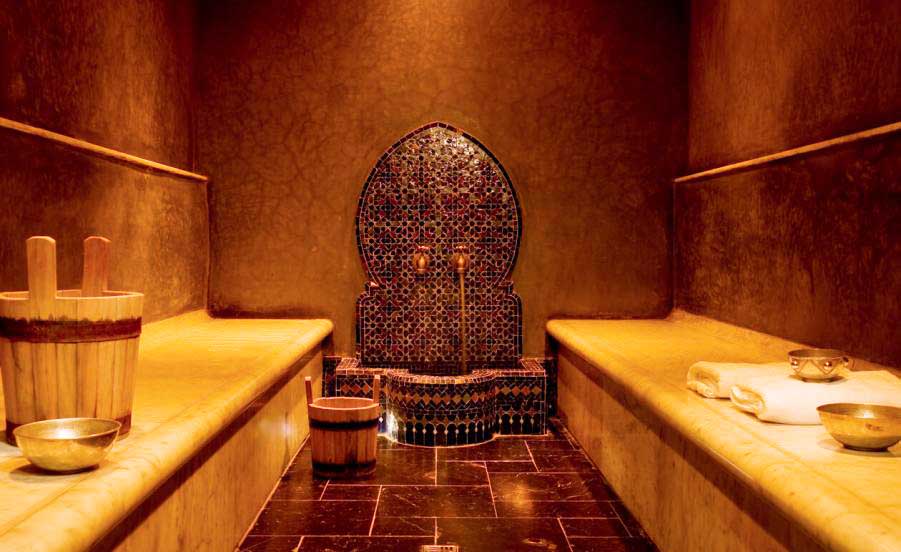 Hammam exfoliation :
As your pores open up, preparing you to receive a head to toe body vigorous scrub down by a friend/stranger in public or an attendant in private. It is your option whether you want to scrub yourself or hire a staff member to wash you. If you are friendly enough, you may also try to exchange cleanings with a local. The kese is known to effectively remove dead skin cells from your body and improve circulation.
Many hammams were constructed near places of worship so worshippers could clean themselves before attending prayers.